The general interface of MudRunner 2 has changed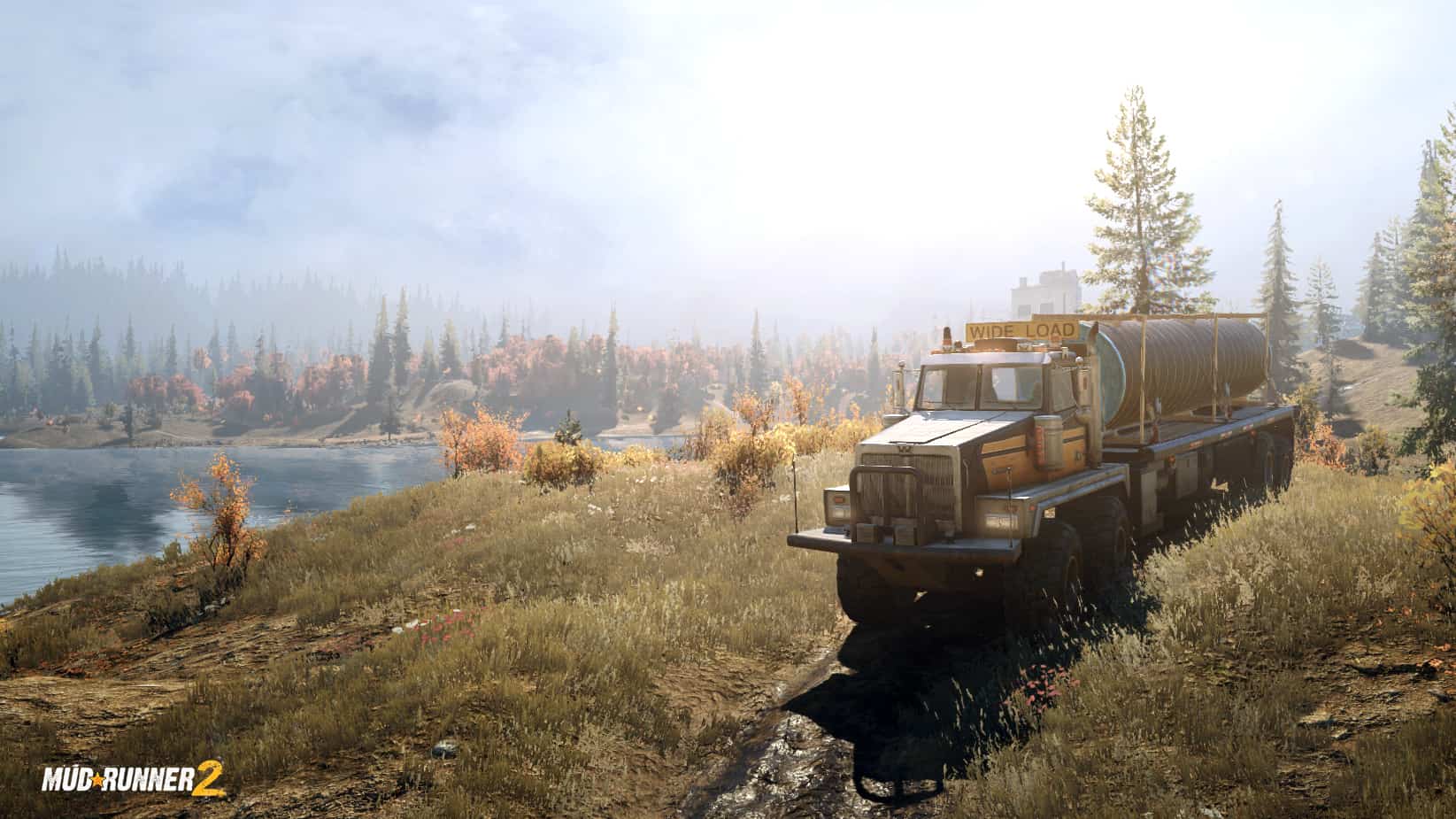 The general interface of MudRunner 2 has changed
We saw a 30 minute-long presentation made by Saber Interactive, during which one of the developers played MudRunner 2 in front of us. First thing we noticed – MudRunner 2 has made a lot of effort on the graphical level. The game looks much better with more colors compared to the first one, and the textures are also more refined. The title ran on a Geforce RTX, therefore we were able to see some light effects which are really pretty. Moreover, most textures seem to be extremely accurate, which is due to the fact that Saber Interactive wanted to give much more detail for a more complete simulation experience. Another great thing – we could have a look at the cockpits views, and they are also more detailed than in the previous version, we appreciate this fact very much. It was clear that developers wanted to add more immersion in this version of MudRunner 2, and they've succeeded quite well, except perhaps with the the physics of vehicles that could be improved further.
At this presentation we could also observe the customization aspect through the garage. In this case again, there are several well-known brands represented, Ford, Chevrolet and Caterpillar among them. What is more, players will also be able to upgrade suspensions, paint, and wheels of their vehicles for a certain sum of money. This is certainly good, but we would have liked more depth, at least for a title that is still simulation at the base. On the other hand, this presentation of the garage was very brief and we had only a very general overview of the customization options that the game players will have. Still we must admit that the interface has been improved significantly, it is a lot less messy than in the first game.
As far as the gameplay itself is concerned, it is evident that MudRunner 2 aspires to significantly improve all the fundamentals of the first game. Not only it is taking place in a completely open environment now, the tasks now seem more diverse. In the presentation that we attended, we saw the contract system, and it lists the tasks to be fulfilled for money. For instance, the player in the demo had to deliver bricks and barrels to a remote farm, and thus had to travel to the farm on a harsh terrain in an unfriendly environment with all sorts of natural phenomenon slowing them down. Fortunately, it is possible to use a number of tools, such as various winches, to progress faster amend repair the vehicle when needed. As fa as the cargo is concerned, it will be much easier than in the previous version of the game, which was way too complicated and inconvenient. This feature will surely get a lot of thumbs-up from the fans.
More news is that the general interface of MudRunner 2 is different too, it is now clearer and has a more modern look. We can see as well the damage that could be suffered by our vehicle, a swell as the fuel gauge, a key element in this simulation. Changing vehicles is also significantly easier this time, however, it will have the confirmation of the controller in hand. By the way, in this version the map was not revealed in game as much as in the first version. This is why players will need to go to certain points of view in order to unlock plots of the map, and be able to see more clearly, just like in the first game. In order to accomplish most tsks, if you play reasonably well, you will need from 30 to 40 minutes.
At the end of the presentation, we could see that the game will also include a completely new element – there will be snowy places on the map. This is pretty exciting, because there was no snow and ice covered terrain int he previous version. What is even better, it looks like the physics of snow are really well done. It may be optimized further in the future, and we will have to wait and see if bugs of collisions will not spoil this simulation, like it happened in the first game. Still, this new challenge of having to ride through the snow looks attractive, and we would love to test our skills in this environment, as far as we understand, it is still being developed and refined, so the final result will probably exceed our expectations.
At the event we not only watched the presentation, but also got additional information about MudRunner 2. For example, we've learned that the progression will be different than the one in the first MudRunner. It not be a title divided into challenges, instead, players will have an open map. This means players will be able to fulfil all sorts of contracts on the same map, no cuts needed. The great thing is that the map will be 4 times larger than that of its predecessor. This is definitely a positive development for roadside simulation lovers.
At the moment, it looks like the developers do not know when the game will be launched exactly. Right now, Saber Interactive intuits the release may happen at the end of the year, or perhaps even in 2020 on PC, PS4 and Xbox One. As far as the Switch version is concerned, it is possible, as one of the developers who was present on site said, but we are not certain if the company will do it or not. However, the switch version of Spintires: Mudrunner was present on Switch at the event, it is may happen so that we will see this game on the Nintendo hybrid console after all. For the moment, all we can do is have some patience and wait a little. In any case, we cannot wait to have the fully completed and enhanced new version of the game later this year, because what we have seen so far gives us a lot of hope to assume that the game will be further improved and the new version will be significantly better and may even come with a few very pleasant surprises.
What we already know for sure is that there will be larger maps , open world, improved cockpits , contract system , money to spend and Caterpillar . Looks great, doesn't it?
---