MudRunner 2 has been confirmed to launch this year (2019)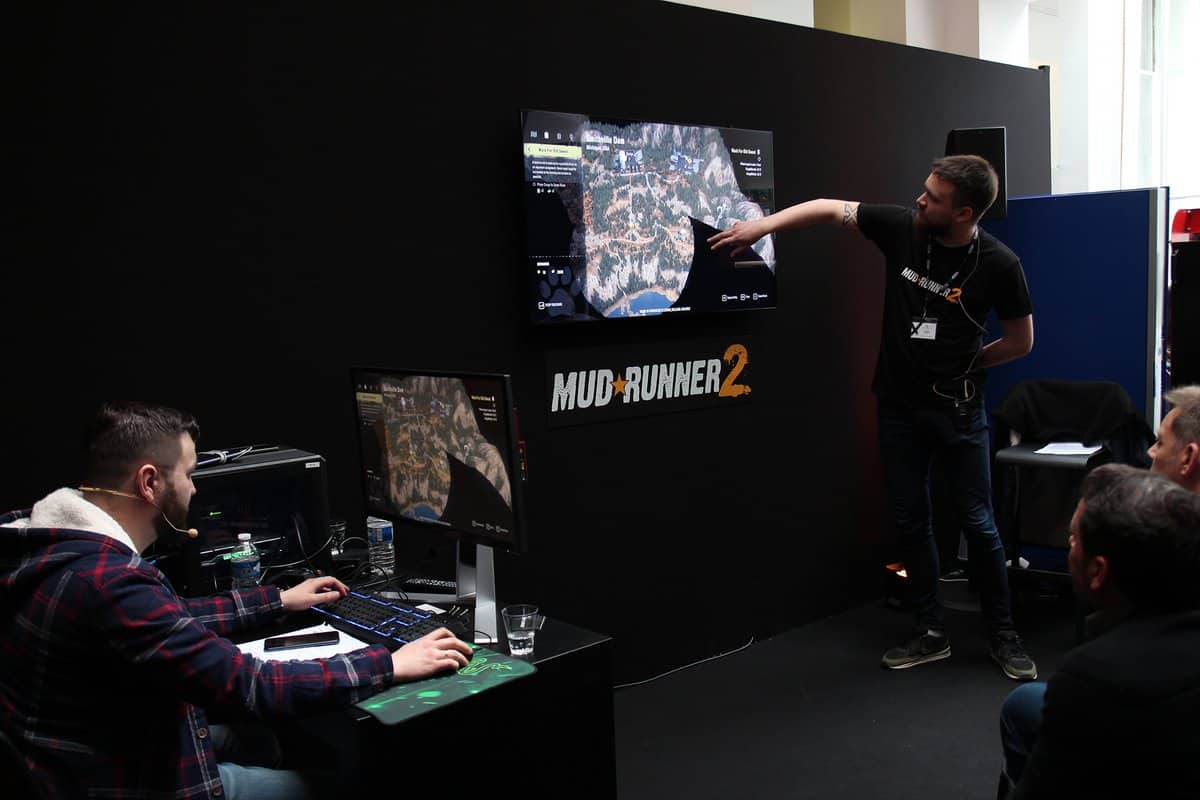 MudRunner 2 has been confirmed to launch this year (2019)
Spintires fans, there are some great news for you – there more adventure and more exciting experience waiting for you later this year, the next entry in the series is coming up. The release of MudRunner 2 has been confirmed for some unspecified time this year (2019), it was announced in a series of hands-off preview sessions that have been posted at the same time by various outlets (it appears that the embargo has been lifted today). These previews confirm that this year is definitely the release year, moreover, we got to learn some very interesting information regarding the latest version of the game, also we could have the first official look at in-game screenshots.
Many key points that have been confirmed for sure are the same ones that I discussed some weeks ago commenting on the off-screen pictures shared on the official MudRunner Twitter account after the Focus Home Interactive's special event that took place earlier this month where a number of new projects were introduced to journalists. MuddRunner 2 was among the featured games, this is why the information is now accessible. Let's sum up:
Improved Visuals and Proper Cockpits – Both DailyStar and Wccftech agree that the visuals are remarkably better than those of the original MudRunner. Environments will have more detailed representation of foliage, mud, and water. There's also much more visual flair when it comes to such aspects as the vehicles' appearance, interiors have many more details with "unique cockpit views", according to Wccftech.
Larger Environments –DailyStar reports that the game creators' team has promised 25 larger maps for MudRunner 2's compared to the original "in terms of landmass".
New Locales with New Terrain Types – a very exciting piece of news is that an area based on Alaska will be added to the game. Moreover, this area will feature a new kind of terrain: snow and ice. A preview has been given to us in a picture uploaded on the official MudRunner account a few days ago.
More Licensed Manufacturers – There will be a wider choice of vehicles than in the original version of MudRunner. Some manufacturers will be back, e.g., Ford, and there will be new ones, such as Caterpillar and Gaz.
Vehicle Customization with Purchasable Upgrades and Add-Ons – There will be the option to customize vehicle colors and add different components to vehicles; this will also affect vehicles' performance and abilities. For instance, Wccftech suggested that adding the right components can help a vehicle drive through deeper water. Component load-out will be a determining factor when it comes to routes a vehicle can take. Upgrades will be available as well. You will be able to buy new vehicles and parts with money earned from successfully accomplished jobs.
New Vehicle Recovery Options – There will more ways available to rescue vehicles that get stuck and/or seriously damaged, you will no longer have manually recover them with the help of another vehicle. We do not know specific details yet, but helicopters will not be involved, this we know for sure.
Improved User Interface – as Wccftech says, looks like it will be more simple to "swap between your vehicles, load cargo and more." The developers say they really focused on this aspect of the game.
More In-Depth Tutorial – those who have no experience with the series can will appreciate a much more thorough tutorial that will explain in an easily understandable manner the complex mechanics of the game and it will undoubtedly help to make MudRunner's notoriously complicated introduction more novice-friendly.
Simultaneous Launch on PC and Console – The developers said that the game will definitely launch on PC, PS4 and Xbox One at the same time exactly. According to Wccftech's report, the game is planned to be released this year.
(This last detail is an assumption more than a confirmation):
Different Types of Cargo (?) – In both the first Spintires and original MudRunner, players could only haul logs and vehicles. MudRunner 2 will likely offer more kinds of cargo, as Wccftech suggests the physics of every vehicle will change in relation to the weight of the cargo they carry. The reporter mentioned a "load of bricks" which gives a different effect than a "load of pillows", as an example.
We hope we won't have to wait too long before being able to watch some true gameplay footage of MudRunner 2. On the other hand, it is still early in development. However, if it follows a similar release pattern to the earlier version, it is likely the game will be launched by Fall/Winter 2019.
---